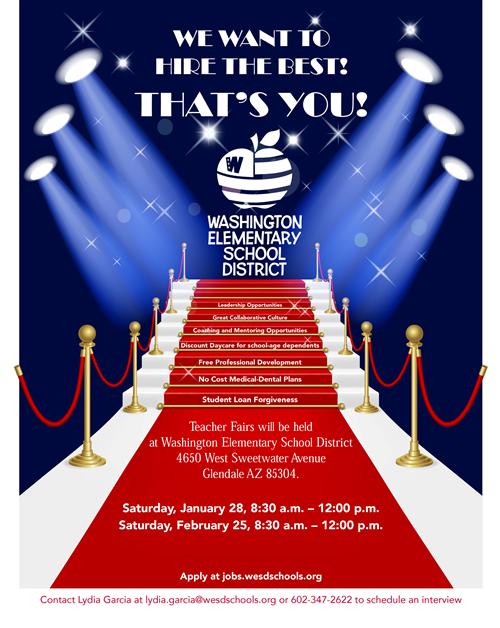 The Washington Elementary School District (WESD) will host a Teacher Interview Fair on Saturday, January 28, 2017 to hire teachers for the 2017-2018 school year.
The fair will be held from 8:30 a.m. to 12:00 p.m. at the WESD Administrative Center, 4650 West Sweetwater Avenue, Glendale, 85304. Contracts for the 2017-2018 school year will be issued to successful candidates.
Interviews will be conducted for those interested in teaching: kindergarten, elementary education, special education, language arts, mathematics, science, social studies, general music, art and special needs preschool.
Apply online at
jobs.wesdschools.org
. Please select the posting titled, Teacher Fair – November 5, 2016 Teacher Fair. Human Resources will contact qualified applicants directly to preschedule an interview. Walk-in applicants are welcome.
To increase your chances of obtaining a teaching certificate, bring the following items to the Interview Fair:
Copy of most recent teacher or student teacher evaluation
Teaching Certificate (Not applicable to December 2016 or May 2017 graduates)
IVP Fingerprint Clearance Card
The WESD will host another Teacher Fair on Saturday, February 25, 2017.
For more information, contact the WESD Recruitment Office at 602-347-2622 or e-mail lydia.garcia@wesdschools.org.